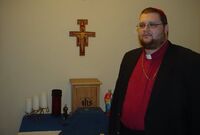 Hello,
I am Patriarch Anthony I, a lowly servant in our Lord's vineyard. I was born and raised Roman Catholic and was on my way into the priesthood when I found myself at odds with some of the Roman Catholic theology. Namely, I could no longer support papal infallibility, clerical celibacy, the rampant Marian worship, their views on contraception (birth control not abortion, 100% pro-life here), and the various scandals I saw in my work in parishes of the Roman Catholic Church.
After much prayer and searching, I was introduced to the Independent Movement. I found a place that accepted me for who I was and were I was spiritually. Not to mention a place that has a wide diversity of beliefs that co-exist.After the Church I was originally with went under, I helped in the formation of the Ancient Apostolic Communion. We are a small church but we believe we are doing what God called us to do.
I pray that you will make a contribute to some of the articles here or add your own to our growing database. Despite the fact that my beliefs conflict with most of the people here, I think that we can get along and work to build an encyclopedia about the Independent Movement that will make everyone proud. I pray that my work here will help to inspire everyone to greater holiness and service of our God.
God Bless you all.
Other wikis I contribute to
Contact Information
You can email me at patriarch at taac dot us or message me at yahoo username patriarchanthony.
---
Community content is available under
CC-BY-SA
unless otherwise noted.