This article is about the seven churches mentioned in the Book of Revelation. For other uses of see Seven Churches (disambiguation).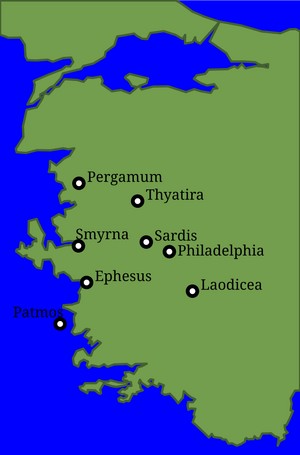 The Seven Churches of Revelation, also known as The Seven Churches of the Apocalypse and The Seven Churches of Asia (referring to the Roman province of Asia, not the entire continent), are seven major churches of Early Christianity, as mentioned in the New Testament Book of Revelation and written to by Ignatius of Antioch. All seven sites are in modern-day Turkey and no longer have significant Christian populations since they were emptied of Christians under the Treaty of Lausanne. In Revelation, on the island of Patmos, Greece, Jesus Christ instructs his servant John to:
"
What thou seest, write in a book, and send it unto the seven churches which are in Asia; unto Ephesus, and unto Smyrna, and unto Pergamos, and unto Thyatira, and unto Sardis, and unto Philadelphia, and unto Laodicea.
"
It should be understood that "churches" in this context refers to the community of Christians living in each city, and not merely to the building or buildings in which they gathered for worship.[1][2]
The seven churches are located in:
Seven Messages
Chapters 2-3 of the Revelation had specific messages for each of these seven churches. These follow a common pattern: the Lord of hosts first addresses each church and identifies himself,[3] then defines things that he knows about the church in question.[4] After this a challenge or reproach is given,[5] followed by a promise.[6] In all seven cases the admonition is included, "He who has an ear, let him hear what the Spirit says to the churches",[7] although sometimes this comes before the promise and sometimes after.
Angels of the churches
St. John is shown seven candlesticks and in their midst, the Son of Man holding seven stars.[8] The candlesticks represent the seven churches; the stars, the angels of those churches. He is bidden to write to the respective angels of those churches and distribute to each his meed of praise or blame.
Origen[9] explains that these are the guardian angels of the churches, a view upheld by Henry Alford. But Epiphanius[10] explicitly rejects this view, and, in accordance with the imagery of the passage, explains it of the bishops. The comparison of a teacher to a star is scriptural.[11] Augustine of Hippo's reason for interpreting angels of the churches as the prelates of the church is that St. John speaks of them as falling from their first charity which is not true of the angels.[12][13]
Revelation 1:20 states that "The seven stars are the angels of the seven churches".
References
External links
Community content is available under
CC-BY-SA
unless otherwise noted.