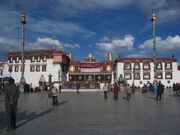 The Jokhang Temple, (Tibetan: ཇོ་ཁང་; Wylie: Jo-khang; Chinese: 大昭寺; pinyin: Dàzhāosì), is the first Buddhist temple in Tibet, located on Barkhor Square in Lhasa. It was built during the reign of king Songsten Gampo (605?-650 CE) to celebrate his marriage with Chinese Tang Dynasty princess Wencheng, who was a Buddhist. The temple was called the Tsulag Khang or 'House of Wisdom' but it is now known as the Jokhang which means the 'House of the Buddha'.[1]

For most Tibetans it is the most sacred and important temple in Tibet. It is in some regards pansectarian, but is presently controlled by the Gelug school.

Along with the Potala Palace, it is the most popular tourist attraction in Lhasa. It is part of the UNESCO World Heritage Site "Historic Ensemble of the Potala Palace" and a spiritual centre of Lhasa.
Pope Benedict XVI has confirmed that he will be travelling to Scotland as part of his tour to the United Kingdom this year.

The Pope made the announcement, which was in a gathering with the Scottish Catholic bishops in Rome, Italy, in response to an address from Cardinal Keith Michael Patrick O'Brien.


The Pope has been quoted as saying: "Later this year, I shall have the j…


In a tribute to Gadhimai, a Hindu goddess of power, a Nepalese festival began today with the mass sacrifice of 20,000 buffalo in the village of Bariyapur. Shortly after, 300,000 birds, sheep and goats were similarly ritually slaughtered.

It is estimated as many as 750,000 people travelled from India, which recently banned similar mass-sacrifices, to make up the majority of…

An all-party committee of French parliamentarians has recommended that Muslim women should be banned from wearing face veils when using public services such as hospitals and public transport. Other recommendations include refusing citizenship or residence permits to those who visibly show "radical religious practice". The report does not call for a complete ban, but it wo…

( More Blogs )
 Atheism ·
 Judaism ·
 Bahá'í Faith ·
  Sikhism ·
 Buddhism ·
 Tibetan Buddhism ·
 Vajrayana Buddhism ·
 Mahayana Buddhism ·
 Zen Buddhism ·
 Theravada Buddhism ·
 Catholicism ·
 Anglicanism ·
 Christianity ·
 Eastern Christianity ·
 Orthodox Christianity ·
 Daoism ·
 Hinduism ·
 Islam ·
 Sunni Islam ·
 Shia Islam ·
 Latter Day Saint movement ·
 Scientology ·
(edit)
 Qur'an explanations ·
 The Holy Qur'an ·
 Torah ·
 Tanakh ·
 Talmud articles ·
 Talmud ·
 Mishnah ·
 Bible(Explanations) ·
 Bible (World English) ·
 Bible (King James) ·
 Bible (American Standard) ·
 Book of Mormon articles ·
 Book of Mormon ·
Community content is available under
CC-BY-SA
unless otherwise noted.