Paul
Павле
His Holiness the Archbishop of Peć, Metropolitan of Belgrade and Karlovci, Serbian Patriarch
Church
Serbian Orthodox Church
See
Belgrade
Enthroned
1 December 1990
Reign ended
15 November 2009
Predecessor
Patriarch German
Successor
Patriarch Irinej
Personal details
Birth name
Gojko Stojčević
Born
11 September 1914
Kućanci, Austria-Hungary
Died
15 November 2009 (aged 95)
Belgrade, Serbia
Buried
Rakovica monastery
Patriarch Pavle (Paul) (Serbian: Патријарх Павле, Patrijarh Pavle; 11 September 1914 – 15 November 2009) was the 44th Patriarch of the Serbian Orthodox Church,[1] the spiritual leader of Eastern Orthodox Serbs, from 1990 to his death. His full title was His Holiness the Archbishop of Peć, Metropolitan of Belgrade and Karlovci, Serbian Patriarch Pavle. He was the oldest living leader of an Eastern Orthodox church. Because of poor health, he spent his last years in the Military Medical Academy in Belgrade, while his duties were carried out by Metropolitan Amfilohije.
Biography
Early life
Pavle was born Gojko Stojčević (Гојко Стојчевић) in the village of Kućanci, near Donji Miholjac in what is today Croatia. He lost both his parents in childhood, and was raised by an aunt. After finishing elementary school, Pavle graduated from a gymnasium in Belgrade, then studied at the seminary in Sarajevo. During World War II he took refuge in the Holy Trinity monastery in Ovčar, and later moved to Belgrade. After the war, he worked in Belgrade as a construction worker, but because of his poor health he took monastic vows in Blagoveštenje monastery in Ovčar in 1946. His monastic name became Pavle (English: Paul). He served as a hierodeacon in Blagoveštenje, and later in Rača monastery between 1949 and 1955. In 1954, Pavle was ordained to the rank of hieromonk. The same year he was ordained as protosyncellus, and in 1957 as archimandrite.
Between 1955 and 1957 Pavle took post-graduate studies in Athens, Greece. After returning from Greece, he was elected the Bishop of Ras and Prizren (which includes all of Kosovo) in 1957. He held that position for 33 years before he was elected Patriarch.
As a religious leader
As a bishop of Ras and Prizren Pavle built numerous new churches and helped the reconstruction of old ones. He spent a lot of time in traveling and meeting with people of his eparchy. He also wrote books and gave lectures in Church music and Church Slavonic language.[2]
After 33 years spent in Kosovo Pavle was elected the Patriarch of Serbia in 1990, instead of ill Patriarch German, and moved to Belgrade. He was ordained for the Patriarch in the St. Michael's Cathedral in Belgrade on 2 December 1990, and in Patriarchate of Peć monastery, the ancient seat of the Serbian Church, on 22 May 1994. Just six days after his election, the parliamentary election was held in Serbia, in which Slobodan Milošević's SPS came to power. At first, relations between the government and the church were good, but gradually eroded because of the Yugoslav Wars and ongoing crisis in Serbia.[3] During the war, the patriarch and the church gave support to the leaders of the Bosnian Serbs and Srpska Krajina. A famous photograph from this time shows Radovan Karadžić kissing Pavle's hand.[3] Paramilitary leader Željko Ražnatović Arkan called the patriarch in one speech his supreme commander, which Pavle welcomed.[3] Pavle also had connections to the Karić family and had numerous meetings with Milošević and Mira Marković, but also with the leaders of the opposition. In 1993 Pavle wrote a letter to Milošević urging him to release Vuk Drašković from prison[3]
Styles of
Patriarch Pavle of Serbia
Reference style
His Holiness
Spoken style
Your Holiness
Religious style
Patriarch
Posthumous style
His Holiness Patriarch Pavle of Blessed Repose
In 1997 Pavle took part in the massive anti-government protests in Belgrade. On 27 January (St Sava Day) he led the protesters to break the police cordon in Kolarčeva street. This was the first time that Pavle openly confronted Milošević's government. Although in following years he became close to the opposition leaders and confronted Milošević, Pavle took part in the 1999 Republic Day celebration where he congratulated Milošević. Pavle later apologized and said that it was misinterpreted. After this, the relations between Pavle and Milošević hit new lows. In 2000, Milošević didn't send Pavle Christmas congratulations for the first time. Pavle later called Milošević and his government responsible for the Yugoslav catastrophe and asked him to resign.[3] After the change of power in Serbia, Pavle continued to cooperate with the government, and was a frequent guest at various political ceremonies.
Pavle has been referred to by some as the "walking saint" based on his simple lifestyle and personal humility.[4] All of the bishops of the Serbian Orthodox Church have cars, which they use to travel through their dioceses, except Pavle. When asked why he'd never owned a car, he replied: "I will not purchase one until every Albanian and Serbian household in Kosovo and Metohija has an automobile."
In his tenure as the Patriarch he healed the schism with the Free Serbian Orthodox Church, now known as the New Gračanica Metropolitanate, and he made efforts to heal the current schism in Macedonia with the Macedonian Orthodox Church, which is considered uncanonical by the Ecumenical Patriarchate and all other Eastern Orthodox churches. During his term, he visited numerous eparchies of the Serbian Orthodox Church both in Serbia and abroad. He visited Australia, United States, Canada and Western Europe. He was also a guest at the United Nations Headquarters in New York and at the White House.
Patriarch Pavle was the oldest among all living Patriarchs. He was especially devoted to and fond of the words of the Apostle Paul (after whom he was named Pavle), whom he often quoted and expressed admiration for.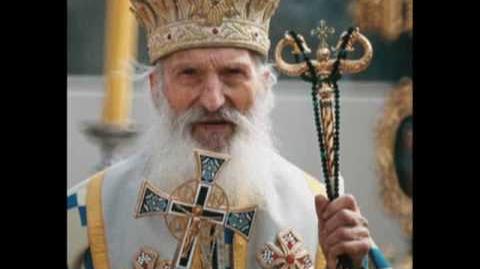 On 27 April 2007, the Holy Synod announced that it had named the Metropolitan of Zagreb, Ljubljana and all Italy Jovan as the Guardian of the throne (taking over the Patriarch's duties temporarily) while patriarch Pavle was recovering in Sveti Sava hospital. He was discharged from hospital on May 1 and returned to his duties on May 14. The Patriarch's health worsened and he was restricted to a wheelchair. On 13 November 2007 Pavle was admitted to a medical clinic, and the Metropolitan of Montenegro and the Littoral Amfilohije Radović, as the oldest Bishop, was elected by the Holy Synod to conduct the duties of the Patriarch.[5] On 20 November 2007 it was announced that his life was in danger. On 17 May 2008 the Holy Synod took over all Patriarch Pavle's duties owing to his inability to carry out his functions.[6] On 12 October 2008 His Holiness was reported to have asked the Holy Synod to accept his resignation because of declining physical ability.[7] On 11 November 2008, the Holy Synod decided to turn down his request and to ask him to remain on the throne for life.[8]
Death
Pavle died on 15 November 2009, after more than two years spent in the Military Medical Academy (Vojno medicinska akademija) in Belgrade.[9] Citizens were able to pay tribute to Patriarch Pavle at the Cathedral Church of St. Michael the Archangel in Belgrade.[10] The funeral liturgy was held in the Cathedral of Saint Sava and he was laid to rest on 19 November, in Rakovica monastery.[11] The funeral was attended by Ecumenical Patriarch Bartholomew I of Constantinople, Patriarch Daniel of Romania, Filaret, Metropolitan of Minsk and Slutsk, Archbishop Anastasios of Albania, Metropolitan Christopher of Prague and Roman Catholic Cardinal Angelo Sodano.[12]
The Government of Serbia announced three days of national mourning over the death of Patriarch Pavle,[13] while Republika Srpska, City of Belgrade and Brčko District declared the funeral day as the official day of mourning.[14][15][16] President Boris Tadić said that the patriarch's death was an "irredeemable loss for the entire Serbian nation."[17] Condolences to the Serbian church, people and officials were sent by Russian Patriarch Kirill I of Moscow,[18] Bulgarian Orthodox Church,[19] Ecumenical Patriarch Bartholomew I of Constantinople and Archbishop Ieronymos II of Athens held memorial service,[20] Patriarch Daniel of Romania,[21] Pope Benedict XVI,[22] Cardinal Walter Kasper,[23] Presidents and heads of Government of Russia, Belarus, Ukraine, Germany
and France[24] as well as leaders of countries that are territorially part of the Serbian Orthodox Church - Bosnia and Herzegovina, Croatia, Republic of Macedonia, Montenegro.[25] The Jewish community, both Islamic communities in Serbia, The Islamic community in Bosnia, and the Roman Catholic Church in Serbia sent condolences.[26]
At least 40 days must pass after his death before a successor can be elected, and in the meantime the authority of the Patriarch will be held by the Holy Synod, while the Metropolitan Amfilohije will serve as the Guardian of the Throne.[27][28]
References
External links
---
---
Belgrade

Temple of Saint Sava

 ·

Cathedral Church of St. Michael the Archangel

 ·

Ružica

 ·

St. Mark's Church

Vojvodina

Kosovo

Our Lady of Ljeviš

 ·

Church of Virgin Hodegetria

Montenegro

Cathedral of the Resurrection of Christ

Bosnia and Herzegovina

Cathedral Church of the Nativity of the Theotokos

 ·

Church of the Holy Archangels Michael and Gabriel

 ·

Church of the Holy Transfiguration