Buddhism is a family of beliefs and practices considered by most to be a religion and is based on the teachings attributed to Siddhartha Gautama, commonly known as "The Buddha" (the Awakened One), who was born in what is today Nepal. He lived and taught in the northeastern region of the Indian subcontinent and most likely died around 400 BCE.
Buddhists recognize him as an awakened teacher who shared his insights to help sentient beings end their suffering by understanding the true nature of phenomena, thereby escaping the cycle of dukkha and rebirth (saṃsāra), that is, achieving Nirvana. Among the methods various schools of Buddhism apply towards this goal are: ethical conduct and altruistic behaviour, devotional practices, ceremonies and the invocation of bodhisattvas, renunciation of worldly matters, cultivating continuous mindfulness, meditation, physical exercises, study, and the cultivation of wisdom.
The following outline is provided as an overview of and topical guide to Buddhism:
Main article
The Buddha
Doctrines of Buddhism
Three Jewels
Buddha — Gautama Buddha, the Awakened One, the Teacher

Araham — Holy
Sammasambuddho — Fully Enlightened
Vijjacaranasanpanno — Perfect in Knowledge and Conduct
Sugato — Welfarer
Lokavidu — World-knower
Anuttaro-purisadammasarathi — The incomparable leader of men to be tamed
Sattha Devamanussanam — Teacher of gods and mankind
Buddho — Awakened
Bhagava — Blessed

Dhamma — the teachings of the Buddha

Svakkhato Bhagavata Dhammo — well-proclaimed by the Blessed One, admirable in the beginning, admirable in the middle, admirable in the end
Sanditthiko — able to be examined
Akaliko — followed by fruit without delay (of immediate result)
Ehipassiko — which you can come and see
Opaneyyiko — to be brought inward
Paccattam Veditabbo Vinnuhi — to be personally known by the wise

Sangha — the Community of Enlightened disciples of the Buddha

Suppatipanno Bhagavato Savakasamgho — The disciples of the Blessed One practice well the threefold training of morality, concentration and wisdom
Ujuppatipanno Bhagavato Savakasamgho — The disciples of the Blessed One practice righteously the threefold training
Nyayappatipanno Bhagavato Savakasamgho — The disciples of the Blessed One practice to realize nibbana
Samicippatipanno Bhagavato Savakasamgho — The disciples of the Blessed One practice to be worthy of veneration
Ahuneyyo — They are worthy of receiving offerings brought even from afar
Pahuneyyo — They are worthy of receiving offerings specially set aside for guests
Dakkhineyyo — They are worthy of receiving offerings offered with the belief that the offering will bear fruits in future existences
Anjalikaraniyo — They are worthy of receiving reverential salutation
Anuttaram Punnakkhettam Lokassa — They are an unsurpassed (incomparable) fertile field for planting the seeds of merit for the world
Four Noble Truths
1. The Noble Truth of Suffering
2. The Noble Truth of the Cause of Suffering
3. The Noble Truth of the Cessation of Suffering
Nirodha — Nirvana (to be realized)

Saupadisesa Nibbana — Nibbana element with residue remaining
Anupadisesa Nibbana — Nibbana element without a residue remaining
4. The Noble Truth of the Path leading to the Cessation of Suffering
Magga — Noble Eightfold Path (to be developed)

Right view
Right intention
Right speech
Right action
Right livelihood
Right effort
Right mindfulness
Right concentration
Three Marks of Existence
Five Aggregates
Dependent Origination
Idappaccayatā — This/That Conditionality
When this is, that is.
From the arising of this comes the arising of that.
When this isn't, that isn't.
From the cessation of this comes the cessation of that.
Twelve Links
Former life
Saṅkhāra — Volitional formations

Bodily formation
Verbal formation
Mental formation
Current life
Vijñāna — Consciousness

Eye-consciousness
Ear-consciousness
Nose-consciousness
Tongue-consciousness
Body-consciousness
Mind-consciousness

Namarupa — Mentality-materiality
Ṣaḍāyatana — Six sense bases

Eye-base
Ear-base
Nose-base
Tongue-base
Body-base
Mind-base

Sparśa — Contact

Eye-contact
Ear-contact
Nose-contact
Tongue-contact
Body-contact
Mind-contact

Vedanā — Feeling

Feeling born of eye-contact
Feeling born of ear-contact
Feeling born of nose-contact
Feeling born of tongue-contact
Feeling born of body-contact
Feeling born of mind-contact

Taṇhā — Craving

Craving for forms
Craving for sounds
Craving for odors
Craving for flavors
Craving for tangibles
Craving for mind-objects

Upādāna — Clinging
Bhava — Being

Sense-sphere being
Fine-material being
Immaterial being
Future life
Transcendental Dependent Origination
Saddhā — Faith
Pāmojja — Joy
Pīti — Rapture
Passaddhi — Tranquillity
Sukha — Happiness
Samādhi — Concentration
Yathābhūta-ñāna-dassana — Knowledge and vision of things as they are
Nibbidā — Disenchantment with worldly life
Virāga — Dispassion
Vimutti — Freedom
Āsava-khaye-ñāna — Knowledge of destruction of the cankers
Karma
Vipāka — Result of karma
Cetana — Intention
Kammadvara — Three doors of action
Mula — Roots
Kammapatha — Courses of action

Unwholesome

Bodily

Destroying life
Taking what is not given
Wrong conduct in regard to sense pleasures

Verbal

False speech
Slanderous speech
Harsh speech
Idle chatter

Mental

Covetousness
Ill will
Wrong view

Wholesome

Bodily

Abstaining from destroying life
Abstaining from taking what is not given
Abstaining from wrong conduct in regard to sense pleasures

Verbal

Abstaining from false speech
Abstaining from slanderous speech
Abstaining from harsh speech
Abstaining from idle chatter

Mental

Being free from covetousness
Being free from ill will
Holding right view

Function

Janaka kamma — Reproductive kamma - that which produces mental aggregates and material aggregates at the moment of conception
Upatthambhaka kamma — Supportive kamma - that which comes near the Reproductive Kamma and supports it
Upapidaka kamma — Obstructive kamma - that which tends to weaken, interrupt and retard the fruition of the Reproductive Kamma
Upaghataka kamma — Destructive kamma - that which not only obstructs but also destroys the whole force of the Reproductive Kamma

Order to take effect

Garuka kamma — Weighty kamma - that which produces its results in this life or in the next for certain

Anantarika-karma — Five heinous crimes, causing rebirth in hell immediately after death

Asanna kamma — Proximate kamma - that which one does or remembers immediately before the dying moment
Acinna kamma — Habitual kamma - that which one habitually performs and recollects and for which one has a great liking
Katatta kamma — Reserve kamma - refers to all actions that are done once and soon forgotten

Time of taking effect

Ditthadhammavedaniya kamma — Immediately effective kamma
Upapajjavedaniya kamma — Subsequently, effective kamma
Aparapariyavedaniya kamma — Indefinitely effective kamma
Ahosi kamma — Defunct kamma

Place of taking effect

Kamavacara — Immoral (Akusala) Kamma pertaining to the Sense-Sphere
Kamavacara — Moral (Kusala) Kamma pertaining to the Sense-Sphere
Rupavacara — Moral Kamma pertaining to the Form-Sphere
Arupavacara — Moral Kamma pertaining to the Formless-Sphere

Niyama Dhammas

Utu Niyama — Physical Inorganic Order (seasonal changes and climate), the natural law pertaining to physical objects and changes in the natural environment, such as the weather; the way flowers bloom in the day and fold up at night; the way soil, water and nutrients help a tree to grow; and the way things disintegrate and decompose. This perspective emphasizes the changes brought about by heat or temperature
Bija Niyama — Physical Organic Order (laws of heredity), the natural law pertaining to heredity, which is best described in the adage, "as the seed, so the fruit"
Citta Niyama — Order of Mind and Psychic Law (will of mind), the natural law pertaining to the workings of the mind, the process of cognition of sense objects and the mental reactions to them
Kamma Niyama — Order of Acts and Results (consequences of one's actions), the natural law pertaining to human behavior, the process of the generation of action and its results. In essence, this is summarized in the words, "good deeds bring good results, bad deeds bring bad results"
Dhamma Niyama — Order of the Norm (nature's tendency to produce a perfect type), the natural law governing the relationship and interdependence of all things: the way all things arise, exist and then cease. All conditions are subject to change, are in a state of affliction and are not self: this is the Norm
Rebirth
Saṃsāra — the cycle of becoming, the round of birth, aging and death, which has been revolving through beginningless time
Buddhist cosmology
Six realms

Deva — Heaven

Tusita — one of the six deva-worlds of the Kāmadhātu
Tāvatiṃsa — the fifth of the heavens of the Kāmadhātu, and the highest of the heavens that maintains a physical connection with the rest of the world

Asura — Demigod realm
Preta — Hungry Ghost realm

Trailokya — Three planes of existence

Kāmaloka — world of desire
Rūpaloka — world of form
Arūpaloka — world of formlessness
Sense bases
Faculties
Six sensory faculties

Eye/vision faculty (cakkh-undriya)
Ear/hearing faculty (sot-indriya)
Nose/smell faculty (ghān-indriya)
Tongue/taste faculty (jivh-indriya)
Body/sensibility faculty (kāy-indriya)
Mind faculty (man-indriya)

Three physical faculties
Five feeling faculties
Five spiritual faculties
Three final-knowledge faculties

Thinking "I shall know the unknown" (

anaññāta-ñassāmīt-indriya

)
Gnosis (

aññ-indriya

)
One who knows (

aññātā-vindriya

)
Formations
Six Great Elements
Mind and Consciousness
Obstacles to Enlightenment
Eight Worldly Conditions
Three Standpoints
Three Primary Aims
Diṭṭha-dhamma-hitasukha — welfare and happiness directly visible in this present life, attained by fulfilling one's moral commitments and social responsibilities
Samparāyika-hitasukha — welfare and happiness pertaining to the next life, attained by engaging in meritorious deeds
Paramattha — the ultimate good or supreme goal, Nibbāna, final release from the cycle of rebirths, attained by developing the Noble Eightfold Path
Three Divisions of the Dhamma
Four Kinds of Nutriment
Truth
Higher Knowledge
Great fruits of the contemplative life
Concepts unique to Mahayana and Vajrayana
Other concepts
Buddhist practices
Buddhist devotion
Moral discipline and precepts
Three Resolutions
To avoid evil
To do good
To purify the mind
Three Pillars of Dhamma
Threefold Training
Five Qualities
Five Powers for one in training
Five Things that lead to Awakening
Five Subjects for Contemplation
I am subject to ageing, I am not exempt from ageing
I am subject to illness, I am not exempt from illness
I am subject to death, I am not exempt from death
There will be change and separation from all that I hold dear and near to me
I am the owner of my actions, heir to my actions, I am born of my actions, I am related to my actions and I have my actions as refuge; whatever I do, good or evil, of that I will be the heir
Gradual training
Ten Meritorious Deeds
Dāna — Generosity
Śīla — Morality
Bhavana — Meditation
Reverence or respect
Services in helping others
Anumodana — Transference of merits
Pattanumodana — Rejoicing in the merits of others
Teaching the Dharma
Listening to the Dharma
Straightening one's own views
Perfections
Ten Theravada Pāramīs
Six Mahayana Pāramitās
Qualities conducive to Enlightenment
Four Foundations of Mindfulness
Four Right Exertions
Exertion for the non-arising of unskillful states
Exertion for the abandoning of unskillful states
Exertion for the arising of skillful states
Exertion for the sustaining of skillful states
Four Bases of Power
Five Faculties
Five Strengths
Seven Factors of Enlightenment
Neutral
Arousing
Calming
Noble Eightfold Path
Wisdom — Paññakkhandha
Right view — samyag-dṛṣṭi • sammā-diṭṭhi

Mundane right view
Supramundane right view

Right view that accords with the Four Noble Truths — saccanulomika sammā-diṭṭhi
Right view that penetrates the Four Noble Truths — saccapativedha sammā-diṭṭhi

Right intention — samyak-saṃkalpa • sammā-saṅkappa
Moral discipline — Silakkhandha
Concentration — Samādhikkhandha
Right effort — samyag-vyāyāma • sammā-vāyāma

The effort to prevent the arising of unarisen unwholesome states (samvarappadhana)
The effort to abandon unwholesome states that have already arisen (pahanappadhana)
The effort to arouse wholesome states that have not yet arisen (bhavanappadhana)
The effort to maintain and perfect wholesome states already arisen (anurakkhanappadhana)

Right mindfulness — samyak-smṛti • sammā-sati
Right concentration — samyak-samādhi • sammā-samādhi

Four jhānas

Pathamajjhana — First jhāna
Dutiyajjhana — Second jhāna
Tatiyajjhana — Third jhāna
Catutthajjhana — Fourth jhāna
Acquired factors
Buddhist meditation
Theravada meditation practices
Samatha — Calm abiding
Samādhi — Concentration
Vipassanā — Insight meditation
Vipassanā-ñāṇa — Insight knowledge

Eighteen kinds of insight

Contemplation on impermanence (aniccanupassana) overcomes the wrong idea of permanence
Contemplation on unsatisfactoriness (dukkhanupassana) overcomes the wrong idea of real happiness
Contemplation on non-self (anattanupassana) overcomes the wrong idea of self
Contemplation on turning away (nibbidanupassana) overcomes affection
Contemplation on detachment (viraganupassana) overcomes greed
Contemplation on cessation (nirodhanupassana) overcomes the arising
Contemplation on giving up (patinissagganupassana) overcomes attachment
Contemplation on dissolution (khayanupassana) overcomes the wrong idea of something compact
Contemplation on disappearance (vayanupassana) overcomes kamma-accumulation
Contemplation on changeablenes (viparinamanupassana) overcomes the wrong idea of something immutable
Contemplation on the signless (animittanupassana) overcomes the conditions of rebirth
Contemplation on the desireless (appanihitanupassana) overcomes longing
Contemplation on emptiness (suññatanupassana) overcomes clinging
Higher wisdom and insight (adhipaññadhamma vipassana) overcomes the wrong idea of something substantial
True eye of knowledge (yathabhuta ñanadassana) overcomes clinging to delusion
Contemplation on misery (adinavanupassana) overcomes clinging to desire
Reflecting contemplation (patisankhanupassana) overcomes thoughtlessness
Contemplation on the standstill of existence (vivattanupassana) overcomes being entangled in fetters

Sixteen Stages of Vipassanā Knowledge

Knowledge to distinguish mental and physical states (namarupa pariccheda ñāṇa)
Knowledge of the cause-and-effect relationship between mental and physical states (paccaya pariggaha ñāṇa)
Knowledge of mental and physical processes as impermanent, unsatisfactory and nonself (sammasana ñāṇa)
Knowledge of arising and passing away (udayabbaya ñāṇa)
Knowledge of the dissolution of formations (bhanga ñāṇa)
Knowledge of the fearful nature of mental and physical states (bhaya ñāṇa)
Knowledge of mental and physical states as unsatisfactory (adinava ñāṇa)
Knowledge of disenchantment (nibbida ñāṇa)
Knowledge of the desire to abandon the worldly state (muncitukamayata ñāṇa)
Knowledge which investigates the path to deliverance and instills a decision to practice further (patisankha ñāṇa)
Knowledge which regards mental and physical states with equanimity (sankharupekha ñāṇa)
Knowledge which conforms to the Four Noble Truths (anuloma ñāṇa)
Knowledge of deliverance from the worldly condition (gotrabhu ñāṇa)
Knowledge by which defilements are abandoned and are overcome by destruction (magga ñāṇa)
Knowledge which realizes the fruit of the path and has nibbana as object (phala ñāṇa)
Knowledge which reviews the defilements still remaining (paccavekkhana ñāṇa)
Zen meditation practices
Zazen

Kōan — a story, dialogue, question, or statement in Zen, containing aspects that are inaccessible to rational understanding, yet may be accessible to intuition
Shikantaza — just sitting
Vajrayana meditation practices
Other practices
Attainment of Enlightenment
General
Nirvana — Full Enlightenment or Awakening, the complete cessation of suffering

Parinirvana — final passing away of an enlightened person

Bodhi — the awakening experience attained by the Buddha and his accomplished disciples referring to the unique consciousness of a fully liberated yogi
Types of Buddha

Sammāsambuddha — one who, by his own efforts, attains Nirvana, having rediscovered the Noble Eightfold Path after it has been lost to humanity, and makes this Path known to others
Paccekabuddha — "a lone Buddha", a self-awakened Buddha, but one who lacks the ability to spread the Dhamma to others
Sāvakabuddha — enlightened 'disciple of a Buddha'
Theravada
Mahayana
Bodhisattva — one who has generated bodhicitta, the spontaneous wish to attain Buddhahood
Zen
Satori — a Japanese Buddhist term for "enlightenment", which translates as a flash of sudden awareness, or individual enlightenment
Kensho — "Seeing one's nature"
Buddhist monasticism and laity
Major figures of Buddhism
Founder
Gautama Buddha — The Buddha, Siddhartha Gautama (Skt., Pali: Siddhattha Gotama), Sakyamuni (Sage of the Sakya clan), The Awakened One, The Enlightened One, The Blessed One, Tathagata (Thus Come One, Thus Gone One)
Buddha's disciples and early Buddhists
Chief Disciples
Sāriputta — Chief disciple, "General of the Dhamma", foremost in wisdom
Mahamoggallāna — Second chief disciple, foremost in psychic powers
Great Disciples
Monks
Nuns
Laymen
Laywomen
First five disciples of the Buddha
Kondañña — the first Arahant
Assaji — converted Sāriputta and Mahamoggallāna
Other disciples
Channa — royal servant and head charioteer of Prince Siddhartha
Angulimala — mass murderer turned saint
Later Indian Buddhists (after Buddha)
Indo-Greek Buddhists
Chinese Buddhists
Tibetan Buddhists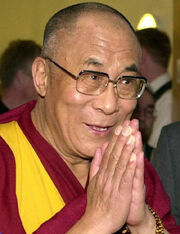 Japanese Buddhists
Burmese Buddhists
Thai Buddhists
Sri Lankan Buddhists
American Buddhists
British Buddhists
Branches of Buddhism
Schools of Buddhism
Theravada
Mahayana
Vajrayana
Early Buddhist schools
Buddhist modernism
Buddhism worldwide
Template:North America in topic Template:South America in topic
Buddhist scriptures and texts
Theravada texts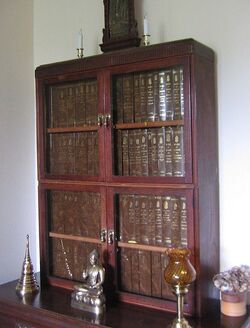 Mahayana texts
Vajrayana texts
History of Buddhism
Buddhist philosophy
Fourteen unanswerable questions

Questions referring to the world: concerning the existence of the world in time

Is the world eternal?
or not?
or both?
or neither?

Questions referring to the world: concerning the existence of the world in space

Is the world finite?
or not?
or both?
or neither?

Questions referring to personal experience
Questions referring to life after death
Buddhist culture
Buddhist architecture
Buddhist clothes
Drubchen — traditional form of meditation retreat in Tibetan Buddhism
Kīla — three-sided peg, stake, knife, or nail like ritual implement traditionally associated with Indo-Tibetan Buddhism
Mandala — concentric diagram having spiritual and ritual significance
Buddhist prayer beads — Mala
Mudra — Symbolic or ritual gesture

Añjali Mudrā — greeting gesture which consists of putting the palms together in front of the chest

Sesshin — period of intensive meditation (zazen) in a Zen monastery
Vajra — short metal weapon that has the symbolic nature of a diamond
Vassa — Rains retreat
Buddhist pilgrimage
The Four Main Sites
Four Additional Sites
Other Sites
Later Sites
Comparative Buddhism
Buddhism and other religions
Access to Insight — Readings in Theravada Buddhism website
Basic Points Unifying the Theravāda and the Mahāyāna

The Buddha is our only Master (teacher and guide)
We take refuge in the Buddha, the Dharma and the

Saṅgha

(the Three Jewels)
We consider that the purpose of life is to develop compassion for all living beings without discrimination and to work for their good, happiness, and peace; and to develop wisdom (prajñā) leading to the realization of Ultimate Truth
We accept the Four Noble Truths, namely

duḥkha

, the arising of

duḥkha

, the cessation of

duḥkha

, and the path leading to the cessation of

duḥkha

; and the law of cause and effect (pratītyasamutpāda)
All conditioned things (

saṃskāra

) are impermanent (anitya) and

duḥkha

, and that all conditioned and unconditioned things (dharma) are without self (anātma) (see trilaksana).
We accept the thirty-seven qualities conducive to enlightenment (

bodhipakṣadharma

) as different aspects of the Path taught by the Buddha leading to Enlightenment.
There are three ways of attaining bodhi or Enlightenment: namely as a disciple (śrāvaka), as a pratyekabuddha and as a samyaksambuddha (perfectly and fully enlightened Buddha). We accept it as the highest, noblest, and most heroic to follow the career of a Bodhisattva and to become a samyaksambuddha in order to save others.
We admit that in different countries there are differences regarding Buddhist beliefs and practices. These external forms and expressions should not be confused with the essential teachings of the Buddha.

Borobudur — ninth-century Mahayana Buddhist Monument in Magelang, Indonesia
Brahmā — a type of exalted passionless deity (deva), of which there are several in Buddhist cosmology
Brahmacariya — the Holy Life
Budai or Hotei — the obese Laughing Buddha, usually seen in China
Buddhas

Amitābha — the principal Buddha in the Pure Land sect

Buddhavacana — the Word of the Buddha
Chakravartin — Wheel-turning Monarch
Devas — gods
Eight Thoughts of a Great Man

This Dhamma is for one who wants little, not for one who wants much.
This Dhamma is for the contented, not for the discontented.
This Dhamma is for the mindful, not for the unmindful.
This Dhamma is for the composed, not for the uncomposed.
This Dhamma is for the wise, not for the unwise.
This Dhamma is for one who is free from impediments, not for one who delights in impediments

Hinayana — "Inferior vehicle", often interpreted as a pejorative term used in Mahayana doctrine to refer to the early Buddhist schools
Kanthaka — Prince Siddhartha's favourite white horse
Mara (demon) — the "Evil One"

Klesa-mara, or Mara as the embodiment of all unskillful emotions
Mrtyu-mara, or Mara as death, in the sense of the ceaseless round of birth and death
Skandha-mara, or Mara as metaphor for the entirety of conditioned existence
Devaputra-mara, or Mara the son of a deva (god), that is, Mara as an objectively existent being rather than as a metaphor

Nāga — the Serpent King
Saddhamma — True Dhamma
Sakka — the King of gods
Samāpatti — correct acquisition of Truth
Sāsana — Dispensation
Shakya — ancient kingdom of Iron Age India, Siddhartha Gautama's clan
Sumeru — central world-mountain in Buddhist cosmology
Yakkha — a broad class of nature-spirits, usually benevolent, who are caretakers of the natural treasures hidden in the earth and tree roots
Yana — Vehicle
Zafu — round meditation cushion
Lists
See also
References
Community content is available under
CC-BY-SA
unless otherwise noted.