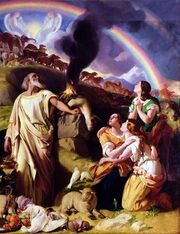 Noah's
(or
Noach's
) story is told in
Genesis
, the first book of the
Torah
in the
Jewish
Tanakh
or
Hebrew Bible
, (known to
Christians
as the
Old Testament
). It is recounted that
G-d
destoyed all life on Earth in a
flood
, Noah and his family were the only human beings to survive.
Account in "Genesis"
Noah was the son of Lamech. His name means "rest" in Hebrew because it was believed that he would bring rest from the struggle to obtain food from the ground, which had been cursed by G-d after he expelled Adam and Eve from the Garden of Eden.
When Noah was five hundred years old he had three sons, Shem, Ham and Japheth.
When Noah was six hundred years old G-d decided that people were too evil and had to be destroyed in a flood. However, Noah, because he was a righteous man, was to be spared. He was instructed to build an ark in which he and his family and males and females of every kind of animals would survive.
After the flood, G-d instructed Noah that, from that point on, he and his descendants were permitted to eat meat but they could not eat meat with life (that is to say, blood) in it. Noah was told that all animals would fear man and that all animals would be for the use of man.
Noah became the first person to till the soil, the first to cultivate a vineyard and to drink wine.
According to the Torah, Noah died when he was nine hundred and fifty years old. He is the last of the extremely long lived figures in the Tanakh, Moses only lived to be one hundred and twenty years old and after his time people in the Tanakh are not recorded as living longer than one hundred years.
Was Noah a righteous man?
Whether or not Noah was truly a righteous man has been a topic of debate amongst rabbis for centuries. The account in Genesis makes it clear that he was the most righteous man of his age, however all of the other people of his age were truly wicked.
In his defence, it has been suggested that the reason that Noah took one hundred and twenty years to build the ark was to serve as warning to evil-doers and give them an opportunity to change their ways.
However, Noah does not pray for those who will be drowned in the flood, as Abraham prayed for those who would be killed in the destruction of Sodom and Gomorrah. Furthermore, there are elements in the story, such as Noah's drunkenness and his cursing of his son, Ham that do not depict him in a good light.
See also
External links
| | |
| --- | --- |
| | This page uses content from the English version of The Judaism Wiki. The original article was at Noah. The list of authors can be seen in the page history. As with the Religion wiki, the text of The Judaism Wiki is available under the CC-BY-SA. |
| | |
| --- | --- |
| | Religion Wiki uses embedded video content from YouTube.com. We do not host or upload any videos, films, or media files. Therefore, Religion Wiki is not responsible for the accuracy, compliance, copyright, legality, decency, or any other aspect of the content of other linked sites. If you have any legal issues please contact the appropriate media file owners / host sites. |
Community content is available under
CC-BY-SA
unless otherwise noted.