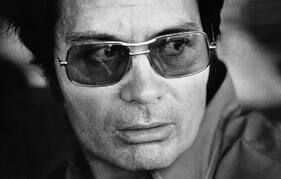 "What you need to believe in is what you can see ... If you see me as your friend, I'll be your friend. As you see me as your father, I'll be your father, for those of you that don't have a father ... If you see me as your savior, I'll be your savior. If you see me as your God, I'll be your God" - Jim Jones
Jim Jones (May 13, 1931 - November 18, 1978) was the founder and leader of the People's Temple, best known for the mass suicide in 1978 of 914 of its members in Jonestown, Guyana. He was also responsible for the murder of five visiting individuals from the United States government.
Jim Jones was known for his madness, thinking it was his duty to bring his church to the promised land, misreading Bible passages.
Many people saw him as strange, he would normally always be seen wearing dark sunglasses.
Peoples Temple
In 1955 Jim Jones founded the Peoples Temple a Christian place of worship. In the 197os it had over a dozen locations in California, including its headquarters in San Francisco.
Jim Jones would tell its members that they should sell everything they had, their valuables, homes and cars. He would receive the money so he could buy land in Guyana, South America and lead his church to the promised land.
He and his church of hundreds soon bought some land, built houses and other facilities and started to work the land, the area became known as Jonestown.
While the People's Temple members would be working on the land, Jones would recite Bible passages through loudspeakers throughout the town.
The people seemed to be happy in Jonestown but rumours quickly spread in North America of Jones abusing the people which later led to investigations.
Jonestown massacre
In November 1978, U.S. Congressman Leo Ryan led a fact-finding mission to Jonestown to investigate the rumoured abuses. All seemed fine when Leo Ryan and his colleagues arrived, everyone seemed happy but he was passed notes by some which asked for help.  Leo Ryan was asked by 15 People's Temple members if he could take them away with him. When Jim Jones heard of this he said he was disappointed but they could leave.
When Ryan and his colleagues and the People's Temple members were about to board a plane at the airstrip at Jonestown, armed guards arrived under the orders of Jones they opened fire killed Leo Ryan and most of the people with him.
The killings did not end there, 914 inhabitants of Jonestown including innocent children died. Jones forced some parents to kill their own children. Jones ordered that many should kill themselves because of people plotting against them. He ordered that children drink the poisen first then the adults. Only a few lucky People's Temple members survived.
Jim Jones would later take his own life. Even his family were not spared by Jones. The Jones Town massacre remains one of the most infamous events in the 20th century. Jim Jones's acts put many people off Christianity.