The Hands of the Cause of God, Hands of the Cause, or Hands (informally) were a select group of Bahá'ís, appointed for life, whose main function was to propagate and protect the Bahá'í Faith. Unlike the members of the elected institutions and other appointed institutions in the Bahá'í Faith, who serve in those offices, Hands are considered to have achieved a distinguished rank in service to the religion (Hornby (1983), #1079, p. 322).
According to The Will and Testament of `Abdu'l-Bahá, they are to be nominated and appointed by the Guardian of the Cause of God and are to be under his direction and obey his command.(pp. 12,13)
The title is no longer given out. The last living Hand of the Cause was `Alí-Muhammad Varqá (1911-2007). The work of the Hands of the Cause is now carried out by the Institution of the Counsellors and the Auxiliary Boards.
There were fifty Hands of the Cause in all, four named by Bahá'u'lláh, four by `Abdu'l-Bahá and forty-two by Shoghi Effendi (including ten posthumously). Twenty-seven Hands were alive when Shoghi Effendi died in 1957.
The most complete list of the Hands available is from "The Bahá'í World: Vol XIV". The Universal House of Justice has confirmed that this list may not be complete, and that a study of the letters and archives may reveal others named to this station.
Appointments
Note: Orthography of some names below is not correct. Accented and underscored characters were not transcribed.
Appointed by Bahá'u'lláh
Appointed by `Abdu'l-Bahá
Appointed posthumously by Shoghi Effendi
First contingent, appointed 24 December 1951 by Shoghi Effendi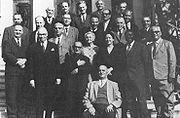 Second contingent, appointed 29 February 1952 by Shoghi Effendi
Appointed by Shoghi Effendi [year of appointment]
Last contingent, appointed 2 October 1957 by Shoghi Effendi
See also
References
External links
Community content is available under
CC-BY-SA
unless otherwise noted.