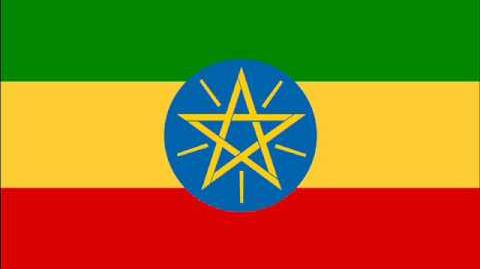 Ethiopia (officially the Federal Democratic Republic of Ethiopia) is a landlocked African nation which borders, Eritrea, Sudan, Djibouti and Somalia, the capital is Addis Ababa. Ethiopia has a population of 79.2 million people, the second largest population in Africa
Christianity in Ethiopia
See Main Article Archdiocese of Aksum
Ethiopia, along with Eritrea, Djibouti and Somalia is under the jurisdiction of the Holy Archdiocese of Aksum of the Greek Orthodox Patriarchate of Alexandria and all Africa.
Christians make up just under 62% of the countries population, making Christianity the most widely practised religion in Ethiopia. Oriental Orthodox Christianity is the most dominant presence in Ethiopia, established as the Ethiopian Orthodox Tewahedo Church in this region. In addition to the Oriental Orthodox church, this region is shared with the Coptic Catholic Church who are in full communition with the Roman Catholic Church.
Other religions in Ethiopia
Islam arrived in Ethiopia in the year 615 CE when Muhammad advised a group of Muslims to settle there in order to flee persecution in Mecca. Muslims currently make up approximately 34% of Ethiopia's population.
Most of the rest of the people in Ethiopia follow traditional African religions. There are some followers of the Baha'i Faith in Addis Ababa.
There is a long history of Judaism in Ethiopia, the origins of which are obscure. There are approximately 120,000 Ethiopian Jews, although the majority of them now live in Israel.
Ethiopia is also the spiritual home of the Rastafari movement and the former emperor of Ethiopia, Haile Selassie, is regarded by Rastafarians as the Messiah and an incarnation of God. Emperor Haile Selassie himself did not share those beliefs because he was a member of the Ethiopian Orthodox Church, although he treated the religious beliefs of Rastafarians with respect
See also
External links
| | |
| --- | --- |
| | Religion Wiki uses embedded video content from YouTube.com. We do not host or upload any videos, films, or media files. Therefore, Religion Wiki is not responsible for the accuracy, compliance, copyright, legality, decency, or any other aspect of the content of other linked sites. If you have any legal issues please contact the appropriate media file owners / host sites. |
Community content is available under
CC-BY-SA
unless otherwise noted.