The Armenian Catholic Church (Armenian: Հայ Կաթողիկէ Եկեղեցի Hay Kat'oġikē Ekeġec'i) is an Eastern Catholic Church sui juris in full union with the Roman Catholic Church. It is in full communion with and accepts the authority of the Pope in Rome as regulated by Eastern canon law. Since 1749, Armenian Catholic Church is headquartered at the Armenian Catholic Patriarchate complex in Bzoummar, Lebanon.
History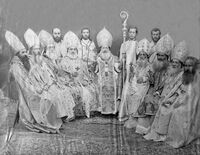 After the Armenian Apostolic Church, along with the rest of Oriental Orthodoxy, formally broke off communion from the Chalcedonian churches, numerous Armenian bishops made attempts to restore communion with the Catholic Church. In 1195 during the Crusades, the church of the Armenian kingdom of Cilicia entered into a union with the Catholic Church which lasted until Cilicia was conquered by the Mamluks in 1375. The union was later re-established during the Council of Florence in 1439, but did not have any real effects for centuries.
In 1740, Abraham-Pierre I Ardzivian, who had earlier become a Catholic, was elected as the patriarch of Sis. Two years later Pope Benedict XIV formally established the Armenian Catholic Church. The headquarters of the patriarchate was later moved to Antelias, north of Beirut. In 1749, the Armenian Catholic Church built a convent in Bzoummar, Lebanon. During the horrific Armenian genocide in 1915–1918 the Church scattered among neighboring countries, mainly Lebanon and Syria.
The Armenian Catholic Church can also refer to the church formed by Armenians living in Poland in 1620 after the union of Leopolis by Mikołaj (Nicholas) Torosowicz, which has since established bonds with the older Armenian Catholic Church. The church which had been historically centered in Galicia as well as in the pre-1939 Polish borderlands in the east, now has two primary centers; one in Gdansk, and the other in Gliwice. A number of its members migrated to Sweden, which holds its own chapter (see Catholic Church in Sweden).
Armenian Catholic communties in the United States
Now in the United States live 1,5 million Armenians, there are 35,000 Catholic Armenians. In the 19th century many Catholic Armenians from Western Armenia, mainly from the villages of Erzurum, Constantinople, Mardin etc., came to the United States to find job. In the end of the same century many Armenians surviving from the Hamidian Massacres, those had concentrated in many cities, maimly in New York. But New York was not only city, where Catholic Armenians lived. There were founded Catholic Armenian communities in New Jersey, Boston, Detroit, Los Angeles, and other cities of California. There were founded Catholic Armenian educational organizations in many cities. In Philadelphia and Boston were founded Colleges of Armenian sisters, where were education hundreds of kids. Later similar college was founded in Los Angeles. Mechitarists were preoccupied by the problem of the "staying Armenian". By the effort of Mkhitarists was founded Mkhitarian College in Los Angeles. Many Armenians came to the United States and Canada from the Middle Eastern countries Lebanon, Syria in 1970's and later years. Also many Armenians came from Argentina, because of economic crisis. At the same time many Catholic Armenians inside the United States moved to San Francisco, San Diego, Chicago, Washington D.C., Atlanta, Miami and Indianapolis.
In 2005 Pope Benedict XVI's decision Catholic Exarchate of the USA and Canada's status was advanced to a diocese. It serviced to 35,000 Catholic Armenians in the United States and 10,000 in Canada. The bishop of the dioceses became Manuel Batakian.
By some researches in the United States exist 10 parish centers, those are located in New York, Los Angeles, Boston and New Jersey.
Hierarchy
The Armenian Catholic Patriarchate of the See of Cilicia is the top authority of the Armenian Catholic Church headed by a Catholicos-Patriarch. The present head is Nerses Bedros XIX Tarmouni.
The current Catholicos-Patriarch is Nerses Bedros XIX. The church is one of the Eastern Rite Catholic churches and uses the Armenian Rite and Armenian language in the liturgy.
Today there are sizeable Armenian Catholic communities in Argentina, Armenia, Australia, Canada, France, Lebanon, Syria, Turkey, Romania and the United States.
Structure
Structure of the Armenian Catholic Church
Archdioceses:

Beirut, Lebanon
Aleppe, Syria
Baghdad, Iraq
Constantinopole (Istanbul), Turkey
Lviv, Ukraine
Eparchies

Alexandria, Egypt
Isfahan, Iran
Al Qamishli, Syria
New York (Our Lady of Nareg)
Paris, France (Sainte-Croix-de-Paris)
Buenos Aires, Argentina (San Gregorio de Narek en Buenos Aires)
Ordinariates for the Faithful of the Eastern Rite

East Europe
Greece
Romania
Patriarchal Exarchates

Damascus, Syria
Jerusalem, Israel
Amman, Jordan
Number of Catholic Armenians
The following table is the list of the dioceses of the Armenian Catholic Church with the number of adherents.[1]
| Dioceses | 1990 | 2000 | 2008 |
| --- | --- | --- | --- |
| Archeparchy of Beirut, Lebanon (Patriarchal) | 15,000 | 12,000 | 12,000 |
| Eparchy of Ispahan, Iran | 2,200 | 2,200 | 10,000 |
| Archeparchy of Baghdad, Iraq | 2,200 | 2,000 | 2,000 |
| Eparchy of Iskanderiya (Alexandria), Egypt | 1,500 | 1,287 | 6,000 |
| Archeparchy of Aleppo, Syria | 15,000 | 17,000 | 17,500 |
| Eparchy of Kamichlié, Syria | 4,303 | 4,000 | 4,000 |
| Damascus, Syria (patriarchal exarchate) | 4,000 | 4,000 | 4,500 |
| Archeparchy of Istanbul, Turkey | 3,700 | 3,680 | 3,650 |
| Amman and Jerusalem (patriarchal exarchate) | N/A | 280 | 800 |
| Archeparchy of Lviv, Ukraine | N/A | N/A | 0 |
| Eparchy of Sainte-Croix-de-Paris, France | 30,000 | 30,000 | 30,000 |
| Ordinariate for Greece (Athens) | 650 | 600 | 350 |
| Apostolic Exarchate for Latin America and Mexico | 30,000 | 12,000 | 12,000 |
| Eparchy of Saint Gregory of Narek, Buenos Aires | established in 1989 | 16,000 | 16,000 |
| Ordinariate for Romania (Gherla) | N/A | 1,000 | 806 |
| Eparchy of Our Lady of Nareg, New York (US and Canada) | 34,000 | 36,000 | 36,000 |
| Ordinariate for Eastern Europe (Gyumri, Armenia) | established in 1991 | 220,000 | 390,000 |
| TOTAL | 142,853 | 362,047 | 539,806 |
Gallery
See also

Part of a series on
Particular churches sui iuris

of the Catholic Church

Roman cross and Byzantine Patriarchal cross
Particular churches are grouped by rite.
Latin Rite
Latin
Byzantine Rite
Albanian · Belarusian · Bulgarian
Croatia and Serbia · Greek · Hungarian
Italo-Albanian · Macedonian · Melkite
Romanian · Russian · Ruthenian
Slovak · Ukraine
Alexandrian Rite
Coptic · Ethiopian · Eritrean
Armenian Rite
Armenian
West Syriac Rite
Maronite · Syro-Malankara · Syriac
East Syriac Rite
Chaldean · Syro-Malabar
References
External links
Template:Armenian Catholic Hierarchy
ar:كنيسة الأرمن الكاثوليك frp:Égllése catolica armènièna bg:Арменска католическа църква ca:Església Catòlica Armènia eo:Katolika Armena Eklezio hy:Հայ Կաթողիկե Եկեղեցի id:Gereja Katolik Armenia sw:Kanisa Katoliki la Armenia hu:Örmény Katolikus Egyház no:Den armensk-katolske kirke pt:Igreja Católica Arménia ro:Biserica Armeano-Catolică ru:Армянская католическая церковь simple:Armenian Catholic Church sl:Armenska katoliška cerkev sv:Armenisk-katolska kyrkan tr:Ermeni Katolik Kilisesi
Community content is available under
CC-BY-SA
unless otherwise noted.