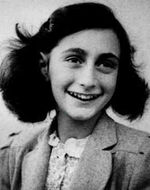 "I don't want to have lived in vain like most people. I want to be useful or bring enjoyment to all people, even those I've never met. I want to go on living even after my death!" - Anne Frank
Anne Frank (June 12, 1929 - c. March 1945) was a Jewish girl who was raised in Holland during the Nazi occupation. She, her family, and another family hid in a secret annex above her father's office for over a year until they were captured on August 4, 1944 and brought to Bergen-Belsen, a Nazi concentration camp. She died of typhus in March, 1945, a month before the camp was liberated.
The exact identity of who the betrayer was is one of the most debated mysteries of World War II. None of the family survived, except her father, Otto Frank who died in 1980. He found her diary and had it published. Anne Frank: The Diary of a Young Girl was sold all over the world and remains a very popular and inspiring book.
External links
| | |
| --- | --- |
| | This page uses content from Conservapedia. The original article was at Anne Frank. The list of authors can be seen in the page history. Conservapedia grants a non-exclusive license for you to use any of its content (other than images) on this site, with or without attribution. Read more about Conservapedia copyrights. |
Community content is available under
CC-BY-SA
unless otherwise noted.