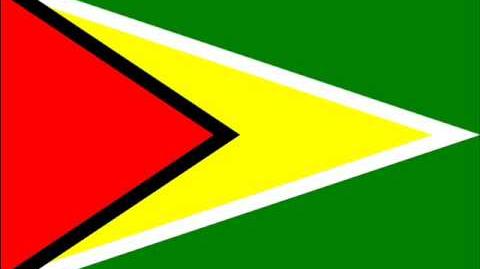 Guyana (pronounced /ɡaɪˈænə/ or /ɡiːˈɑːnə/), officially the Co-operative Republic of Guyana and previously known as British Guiana, is a state on the northern coast of South America that is culturally associated with the English-speaking Caribbean. It is the only state of the Commonwealth of Nations on mainland South America. Guyana is bordered to the east by Suriname, to the south and southwest by Brazil, to the west by Venezuela, and on the north by the Atlantic Ocean. Historically, the region known as "Guiana" was comprised of the large shield landmass north of the Amazon River and East of the Orinoco River. Five sub-regions were carved out of the landmass by colonial powers in the late 17th and early 18th century; Spanish Guiana (now eastern Venezuela), Portuguese Guiana (now northern Brazil), English Guiana (Guyana), Dutch Guiana (Suriname) and the present French overseas department of French Guiana.
Religion in Guyana
According to the 2002 census, Christianity is the majority religion in Guyana. Chrsitians represent 57% of Guyana's people, Pentecostalism is followed by 17% of the population, Romaan Catholicism by 8%, Anglicanism by 5% and the Seventh-day Adventist Church by 5%.
Hinduism is the religion of 28% of Guyana's people and Islam that of 7%. Many followers of both of those religions can trace their ancestry to India, Pakistan or Bangladesh.
Minority religions in Guyana include the Rastafari movement and the Baha'i Faith. About 0.25% of Guyana's people are Buddhists.
References
External links
| | |
| --- | --- |
| | This page uses content from the The Dhamma Wiki.'Dhamma Wiki content is released in the public domain. The Dhamma is free. The Buddha did not hold copyrights either. The sharing of the Buddha Dhamma is solely for the purpose of prolonging the buddhasasana through release. |
| | |
| --- | --- |
| | Religion Wiki uses embedded video content from YouTube.com. We do not host or upload any videos, films, or media files. Therefore, Religion Wiki is not responsible for the accuracy, compliance, copyright, legality, decency, or any other aspect of the content of other linked sites. If you have any legal issues please contact the appropriate media file owners / host sites. |
Community content is available under
CC-BY-SA
unless otherwise noted.