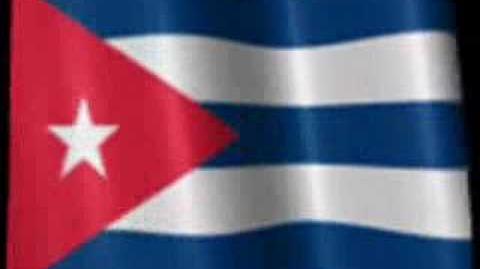 The Republic of Cuba (pronounced /ˈkjuːbə/ Spanish: República de Cuba, pronounced [reˈpuβlika ðe ˈkuβa]) is an island country in the Caribbean. It consists of the island of Cuba, the Isla de la Juventud, and several archipelagos.
Havana is the largest city in Cuba and the country's capital. Santiago de Cuba is the second largest city. Cuba is home to over 11 million people and is the most populous insular nation in the Caribbean. Its people, culture, and customs draw from diverse sources, including the aboriginal Taíno and Ciboney peoples; the period of Spanish colonialism; the introduction of African slaves; and its proximity to the United States of America.
Religion in Cuba
Following Fidel Castro's revolution in 1959, restrictions were placed on religious practice. Between 1959 and 1961, 80% of the Catholic and Protestsant clergy fled to the United States.
The Roman Catholic Church estimates that 60% of the population of Cuba are Catholics. Pope John Paul II made a historic visist to Cuba in January 1998. Prior to which Christmas was reinstated as a national holiday in Cuba.
Other Christian denominations account for about 5% of the population of Cuba. The first Russian Orthodox cathedral was opened in Cuba on October 20, 2008, in a ceremony attended by Raul Castro.
There is a long history of Judaism in Cuba, although the Jewish population there is now small. The New York times has said that there are 1,500 Jews in Cuba and only one kosher butcher's shop. A significant proportion of Cuba's Jewish population left the country after the revolution and now live in Florida. Many Cubans are descended from Marranos (Crypto-Jews) who fled the Spanish Inquisition, Fidel Castro himself has said that he had Marrano ancestors.
About 0.25% of the people of Cuba are Buddhists and 0.003% are Muslims.
See also
References
External links
| | |
| --- | --- |
| | This page uses content from the The Dhamma Wiki.'Dhamma Wiki content is released in the public domain. The Dhamma is free. The Buddha did not hold copyrights either. The sharing of the Buddha Dhamma is solely for the purpose of prolonging the buddhasasana through release. |
| | |
| --- | --- |
| | Religion Wiki uses embedded video content from YouTube.com. We do not host or upload any videos, films, or media files. Therefore, Religion Wiki is not responsible for the accuracy, compliance, copyright, legality, decency, or any other aspect of the content of other linked sites. If you have any legal issues please contact the appropriate media file owners / host sites. |
Community content is available under
CC-BY-SA
unless otherwise noted.