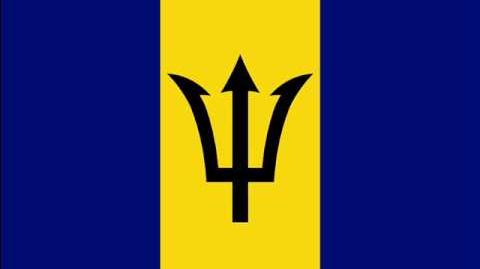 Barbados (pronounced /bɑrˈbeɪdoʊz, bɑrˈbeɪdɒs/), situated just east of the Caribbean Sea, is an independent West Indian Continental Island-nation in the western Atlantic Ocean. For over three centuries Barbados was under British rule and maintains Queen Elizabeth II as head of state. Located at roughly 13° North of the equator and 59° West of the prime meridian, it is considered a part of the Lesser Antilles. Its closest island neighbours are Saint Vincent and the Grenadines and Saint Lucia to the west. To the south lies Trinidad and Tobago—with which Barbados now shares a fixed official maritime boundary—and also the South American mainland. Barbados's total land area is about 430 square kilometres (166 square miles), and is primarily low-lying, with some higher in the country's interior. The highest point in Barbados is Mount Hillaby in the parish of Saint Andrew.
Religion in Barbados
The majority of Barbadians of European and African descent are Christians, making up 95% of the population. The Church of England was the official state religion of Barbados before independence and 405 of the country's people continue to follow Anglicanism. Other Christian denominations with a presence in Barbados include the Roman Catholic Church, Spiritual Baptists and Jehovah's Witnesses.
Jews have lived in Barbados since 1654 when Sephardi Jews arrived from Dutch Brazil. However, most people who practice Judaism in Barbados today are descendants of Ashkenazi Jews from Europe who arrived as refugees in the aftermath of the Second World War.
Other minority religions in Barbados include Hinduism, Islam and the Baha'i Faith. About 0.15% of the people of Barbados are Buddhists.
References
External links
| | |
| --- | --- |
| | This page uses content from the The Dhamma Wiki.'Dhamma Wiki content is released in the public domain. The Dhamma is free. The Buddha did not hold copyrights either. The sharing of the Buddha Dhamma is solely for the purpose of prolonging the buddhasasana through release. |
| | |
| --- | --- |
| | Religion Wiki uses embedded video content from YouTube.com. We do not host or upload any videos, films, or media files. Therefore, Religion Wiki is not responsible for the accuracy, compliance, copyright, legality, decency, or any other aspect of the content of other linked sites. If you have any legal issues please contact the appropriate media file owners / host sites. |
Community content is available under
CC-BY-SA
unless otherwise noted.